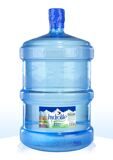 HYDROLIFE BOTTLERS Company's new product: Hydrolife Eco® now - in Great Volume!

Water is produced in PC packing in capacity of 18,9 litres and became irreplaceable in the use at offices and your home. Taste became softer and it is perfect for tea, coffee and food cooking.

Water is delivered home and in offices after the advance payment realisation, according to the Price-list.

Dispenser (Device for cold and hot water supply).